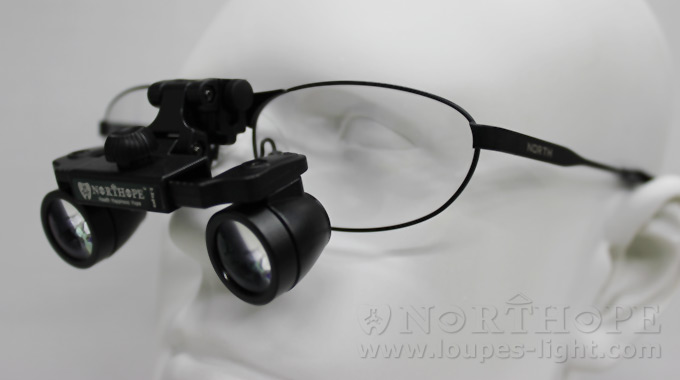 L60 Binocular Loupes (lightweight & better optics for experienced, frequent users)
they are used on optional "NORTH H50, H60, H70, H80" Dental LED headlight.
Specifications
Model
Magnification
Working distance
Depth of Field
Field of view
Weight
Weight of
Loupes and Frame
L60-2.5x WA
2.0X
40cm
22-49cm
13cm
7.8g
58g
L60-2.5x pro
2.5X
42cm
24-57cm
11cm
8g
60g
L60-4.0x pro
4.0X
50cm
31-54cm
3cm
7.5g
57g
Loupe Optical Feature
L60-2.5x WA:widest angel of field,bigest depth of view,especifically suit beginners,students, free operator.
L60-2.5x pro:bigger power,higher resolution than other 2.5x,especifically suit experienced,critical users.
L60-4.0x pro:smallest but biggest power,especifically suit high level & frequent operator.
Features
lightweight loupe, packing case is eyeglass case, it can be put in overcoat pocket, but optical performance exceeds most loupes;Ar(argon) inside barrle of loupe, keep NEW till 2 years.
Color & style